Brothers and sisters:
Be kind to one another, compassionate,
forgiving one another as God has forgiven you in Christ.
Be imitators of God, as beloved children, and live in love,
as Christ loved us and handed himself over for us
as a sacrificial offering to God for a fragrant aroma.
Immorality or any impurity or greed must not even be mentioned among you,
as is fitting among holy ones,
no obscenity or silly or suggestive talk, which is out of place,
but instead, thanksgiving.
Be sure of this, that no immoral or impure or greedy person,
that is, an idolater,
has any inheritance in the Kingdom of Christ and of God.
Let no one deceive you with empty arguments,
for because of these things
the wrath of God is coming upon the disobedient.
So do not be associated with them.
For you were once darkness,
but now you are light in the Lord.
Live as children of light.
R. (see Eph. 5:1) Behave like God as his very dear children.
Blessed the man who follows not
the counsel of the wicked
Nor walks in the way of sinners,
nor sits in the company of the insolent,
But delights in the law of the LORD
and meditates on his law day and night.
R. Behave like God as his very dear children.
He is like a tree
planted near running water,
That yields its fruit in due season,
and whose leaves never fade.
Whatever he does, prospers.
R. Behave like God as his very dear children.
Not so the wicked, not so;
they are like chaff which the wind drives away.
For the LORD watches over the way of the just,
but the way of the wicked vanishes.
R. Behave like God as his very dear children.
R. Alleluia, alleluia.
Your word, O Lord, is truth;
consecrate us in the truth.
R. Alleluia, alleluia.
Jesus was teaching in a synagogue on the sabbath.
And a woman was there who for eighteen years
had been crippled by a spirit;
she was bent over, completely incapable of standing erect.
When Jesus saw her, he called to her and said,
"Woman, you are set free of your infirmity."
He laid his hands on her,
and she at once stood up straight and glorified God.
But the leader of the synagogue,
indignant that Jesus had cured on the sabbath,
said to the crowd in reply,
"There are six days when work should be done.
Come on those days to be cured, not on the sabbath day."
The Lord said to him in reply, "Hypocrites!
Does not each one of you on the sabbath
untie his ox or his ass from the manger
and lead it out for watering?
This daughter of Abraham,
whom Satan has bound for eighteen years now,
ought she not to have been set free on the sabbath day
from this bondage?"
When he said this, all his adversaries were humiliated;
and the whole crowd rejoiced at all the splendid deeds done by him.
– – –
Lectionary for Mass for Use in the Dioceses of the United States, second typical edition, Copyright © 2001, 1998, 1997, 1986, 1970 Confraternity of Christian Doctrine; Psalm refrain © 1968, 1981, 1997, International Committee on English in the Liturgy, Inc. All rights reserved. Neither this work nor any part of it may be reproduced, distributed, performed or displayed in any medium, including electronic or digital, without permission in writing from the copyright owner.
"Be kind to one another, compassionate, forgiving one another as God has forgiven you in Christ."
In the first reading we hear Paul's exhortation to the Ephesians to be compassionate with one another. He calls them, and in turn calls us, to be imitators of Christ in everything we do. What St. Paul is urging us to do is not easy. Immorality, impurity, greed, obscenity, and suggestive talk are all actions that we should rebuke. Rather than participating in deeds that distance us from Christ and His Kingdom, we are called to be thankful and compassionate. We are to live as children of light.
In today's Gospel, Christ teaches us how to be compassionate. When he sees a woman who was "crippled by the Spirit" he calls out to her and heals her of her infirmity. In doing so, he angers the leader of the synagogue. The leader of the synagogue accuses Christ of not keeping holy the Sabbath because He cured the woman. Christ then rebukes him by calling him a hypocrite. Christ's reasoning took me a very long time to understand. He asks the leader of the synagogue, "Does not each one of you on the Sabbath untie his ox or his ass from the manger and lead it out for watering?" I thought Christ was comparing the work they do with their animals to the work He did in curing the crippled woman. What I now understand is that Christ sees the watering of animals as compassionate. One would not deny an animal sustenance on the Sabbath in order to keep the day holy. Rather, one would be compassionate to the animal and grant the animal its need for water and food. In the same way, Christ did not deny the woman the compassion of healing her from her infirmity. By watering the animals their physical needs are met. In curing the woman, not only are her physical needs met but her spiritual needs are as well because we are told it was Satan who kept her in slavery and caused her infirmity. Curing the woman from her physical infirmity shows us that Christ came to cure us of our spiritual infirmities.
May we be Christ-like in our compassion toward others and may we always look for and find the face of Christ in one another.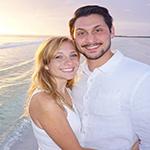 Dakota currently lives in Denver, CO and teaches English Language Development and Spanish to high schoolers. She is married to the love of her life, Ralph. In her spare time, she reads, goes to breweries, and watches baseball. Dakota's favorite saints are St. John Paul II (how could it not be?) and St. José Luis Sánchez del Río. She is passionate about her faith and considers herself blessed at any opportunity to share that faith with others. Check out more of her writing at https://dakotaleonard16.blogspot.com.