Part 3 of our Faith Formation Series. Read Part 1; Part 2

Even a Pandemic Can't Hold Middle School Youth Ministry Back!
It's hard to believe that it was just short of a year ago that we had to cancel our in-person Middle School Youth Ministry sessions due to COVID-19. It was definitely a disappointment as we have so much fun at our in-person meetings and many of my favorite events are at the end of the school year. I was so looking forward to the "Destination Unknown" event (an introduction to high school and High School YM for the eighth graders), the Welcome to YM event for the fifth graders, and our annual trip to Cedar Point, all of which had to be canceled! But Kathy Russell (the Youth Minister at Assumption who helps run the Sunday evening Middle School YM program for both of our parishes' students) and I were determined to give the students all the benefits of those experiences even if we couldn't meet in person. So, instead of our traditional fifth grade and eighth grade in-person events, the students received hand-delivered packages full of brightly-colored information, fun little activities, links to videos of their Youth Ministers and other students sharing their experiences of the next stage of Youth Ministry, and some other treats. It was very different from the awesome in-person events that we normally have, but I was proud of the package that we had prepared.
Like the rest of the world, we had hoped that by the fall, we would be able to get back to in-person sessions again. But alas, it soon became clear that that was not going to be possible. Again, we were determined to make virtual lessons that were awesome! It helped that we had some advanced notice this time as we set out to create lessons that would help the students grow in knowledge and in faith, while maintaining the fun, community experience that they have come to expect in YM. I am proud of the lesson plan we created for the year as we found a way to present the Corporal Works of Mercy and the Principles of Catholic Social Teaching in a concise, but fun way. The structure is simple: each month has three "lessons:"
Week 1 focuses on that month's Corporal Work of Mercy
Week 2 focuses on that month's Principle of Catholic Social Teaching
Week 3 is a Zoom call where the students catch-up and share about how they have served others that month.
Each lesson has an opening Scripture verse, a short video, a short description of the lesson's focus, an activity, two questions on which to reflect via the video platform Flipgrid, and a closing prayer or song.
My favorite lesson so far is actually one of the first ones we sent out! It was October's lesson on Clothing the Naked. I love it because Mrs. Russell and I created a funny video called "The Dos and Don'ts of Clothing the Naked" and the activity for the week asked the students to go through their closets and sort out the clothes that didn't fit them anymore or that they weren't going to wear again. We asked them to count the pieces of clothing that they had and they were able to compare themselves to how many articles of clothing the average American has. (Americans have LOTS of clothes!) Then we encouraged them to donate their unused clothes. You can check out the whole lesson by clicking on the image below: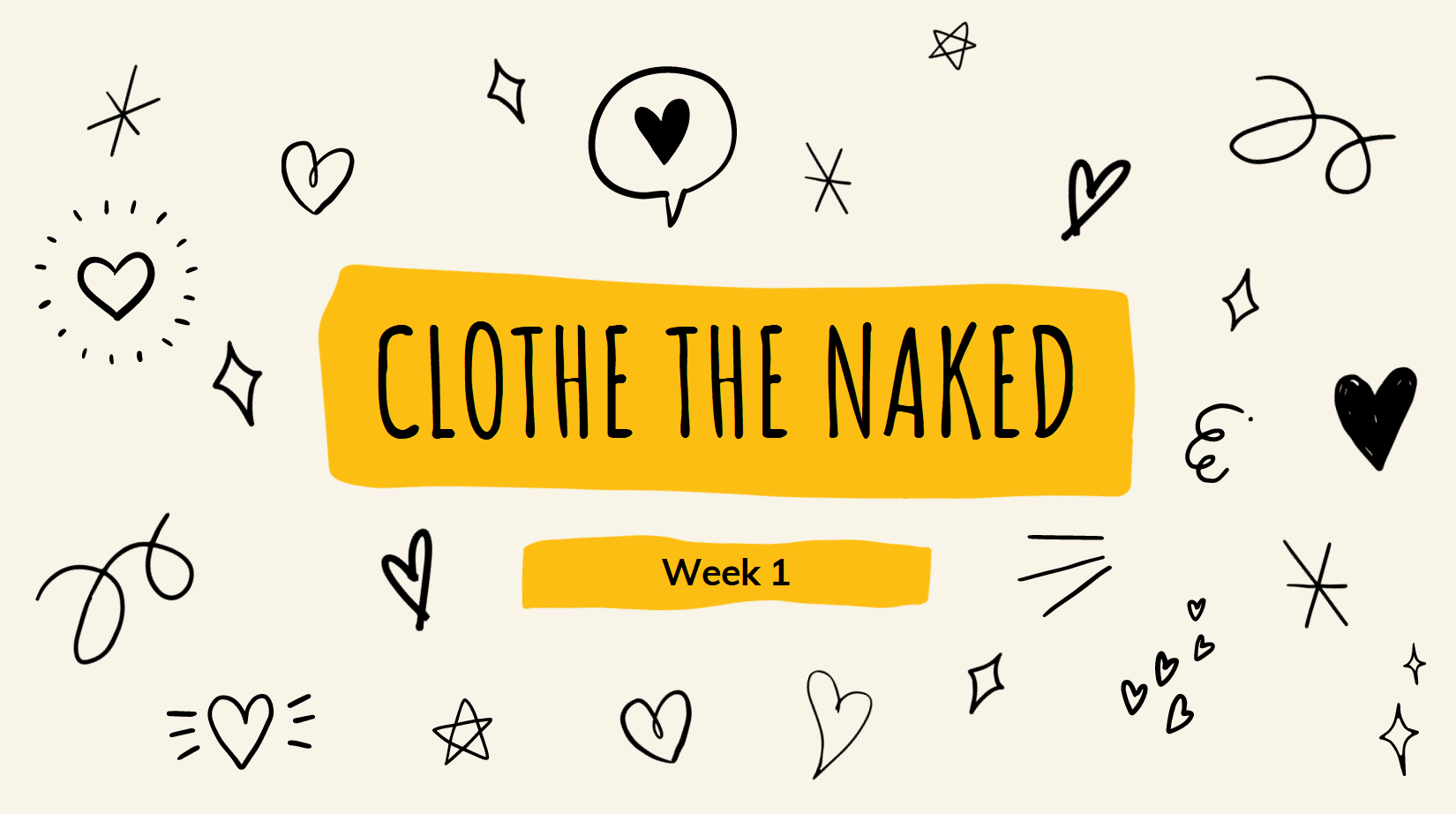 Now it's February and we're getting closer and closer to the end of the year. We're continuing on with our virtual format, and we've had a consistent level of response from the middle schoolers! One of the blessings of virtual Faith Formation has been that families can do the activities and service projects together at home. My prayer is that the lessons that we have been sending out has helped parents feel more connected to and involved in their child's Faith Formation than they have in the past.
If your middle schooler has been following along this year, thank you! We hope this year's virtual lessons have been helping your child to grow in faith and compassion! Please join us in praying that by the coming fall we will finally be able to come together for in-person sessions once again!
Thank you!
Christine Sellnow
---