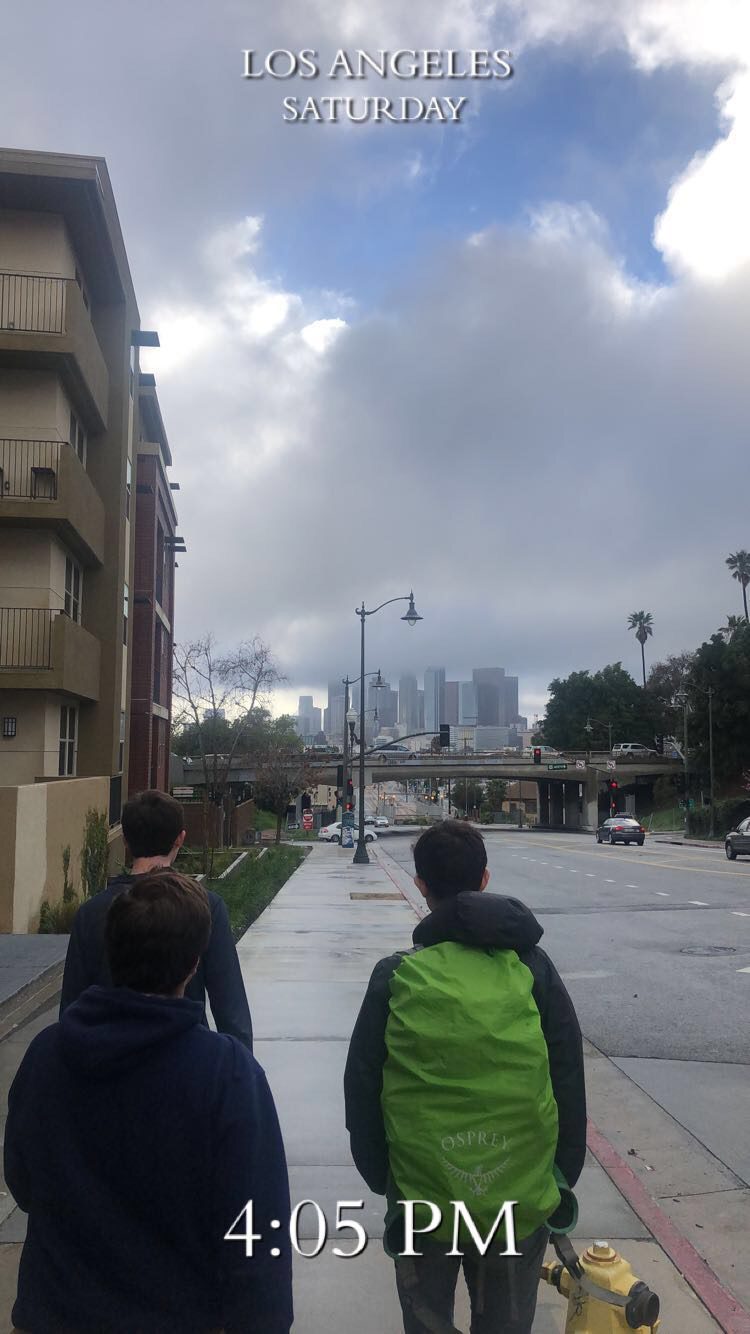 About a month and a half ago, I immersed myself into a culture I've never seen or experienced before. It was right here in our own country, although it felt like a world away from my life here in Michigan. Reflecting on it has not been as simple of a task as I thought it would be. I'm not always great with words, especially when an experience cannot be put simply into words to sum it up. To this day, I am still wrapping my head around what I felt, saw, heard, and lived. So, bear with me here as I share my experience in L.A. this past Spring Break.   
Service. According to dictionary.com, service means "an act of helpful activity; help; aid", which until about 2 months ago, I translated as physically helping someone. Serving them food, taking care of them, helping them with projects. An act that is tangible, done with my hands. Growing up when I volunteered, I was singing at old folk's homes, painting houses, or even building a wheelchair ramp as I did one year on the Youth Outreach Mission Trip at Blessed Sacrament. That's all I really ever knew, so that's all I thought of. However, when I stepped off of a plane at LAX in early March, I was encountering a new adventure that would change my definition of service.
This past Spring Break, I participated in a program called Alternative Spring Breaks (ASB) through my parish at the University of Michigan, St. Mary's Student Parish. I was selected to go to Los Angeles with 5 other college students and 1 campus minister back in November. The months leading up to the trip we met each week and prepared for the trip the best we could. We would meet with everyone in the ASB program – there were 12 locations, 10 domestic and 2 international with about 100 people in total. Different topics would be discussed, people would share their experiences, and ultimately, we would try to mentally prepare ourselves, but also open our hearts so we were ready to take on this week of service in Los Angeles. Until one of our last weeks, I thought we were going to L.A. to work with kids, serve the homeless, and help with projects around the community, as I have always known. However, my idea of the trip was changed when we began talking about solidarity. Solidarity according to dictionary.com is a "union or fellowship arising from common responsibilities and interests, as between members of a group or between classes, peoples, etc."  This definition is pretty wordy, and can explain why before the discussion we had, I thought I knew what solidarity was, but couldn't give an explanation if someone asked. Leaving that night, I realized that solidarity was just being with people, being equals with them, living with them and experiencing with them. No one is above or below, no one is saving or suffering. Everyone is equal. This is when I realized that service is not just working with your hands, its working with your heart as well. Listening, talking, and experiencing life is service just as much as painting a house or building a wheel chair ramp. I now knew I was going to have a very new experience in L.A., and as nervous and apprehensive as I was, I was also excited to see how God was going to work in our lives that week.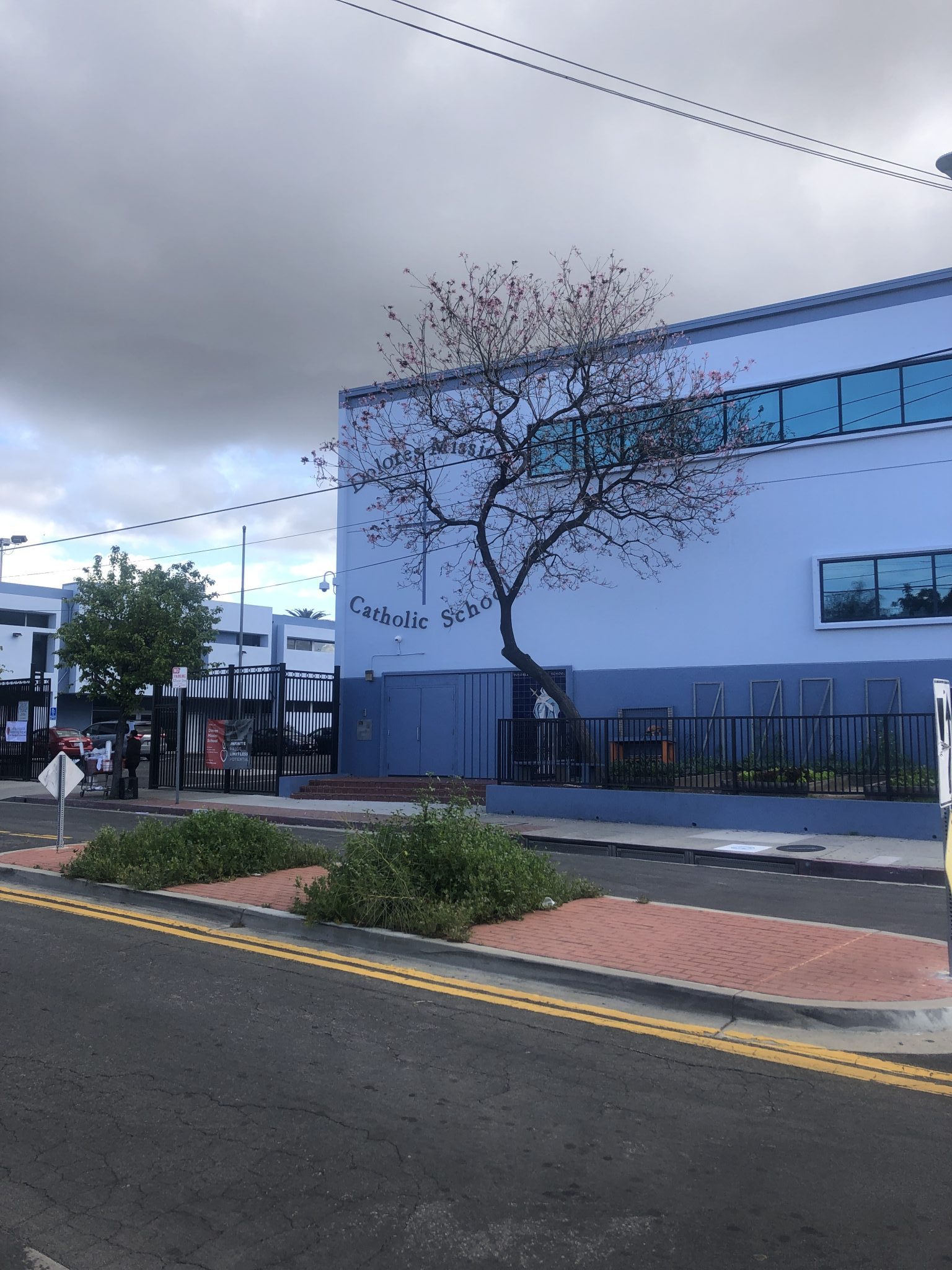 Heading to our place of residence for the week once we arrived in L.A., we could see the palm trees and skyline, the typical picture of L.A. However, after a couple of turns, we were suddenly in a much different atmosphere. Small homes close together with alleyways between every few. There were gates and fences guarding off most of the house fronts. As a first-time visitor of L.A., the TV shows and movies that had shaped my mind were behind me as I could clearly see the contrasting lives being lived in the city. It was not all glitz and glamour.
Over the week, we stayed in Dolores Mission Catholic School in Boyle Heights. We blew up our air mattresses and stayed in the school's community room. Each morning we packed up our items and put them in a storage room before the students arrived. Dolores Mission Catholic School is the Kindergarten through 8th grade Catholic School associated with Dolores Mission Catholic Church, where Homeboy Industries established its roots. Our mission for the week was to learn and immerse ourselves into a life we hadn't experienced in our homes. Like I mentioned before, this was a very new concept of service for me. Although we did do some tangible service like serving breakfast and dinner to the homeless on Skid Row (an experience I still do not know how to grasp), and helped with the after-school program at Dolores Mission, most of the week included learning, seeing, and hearing from those in the community.
That first Sunday morning we were there, we attended mass at Dolores Mission. This service was the most beautiful and soulful mass I have ever attended. It brought multiple group members of mine to tears and showed each of us that God was with us and this community that week. From the music, prayers, and homily, to the passion and love spread throughout the room, God's presence was so clearly eminent, and the history of the place came alive. It was a wonderful welcoming into the Dolores Mission community.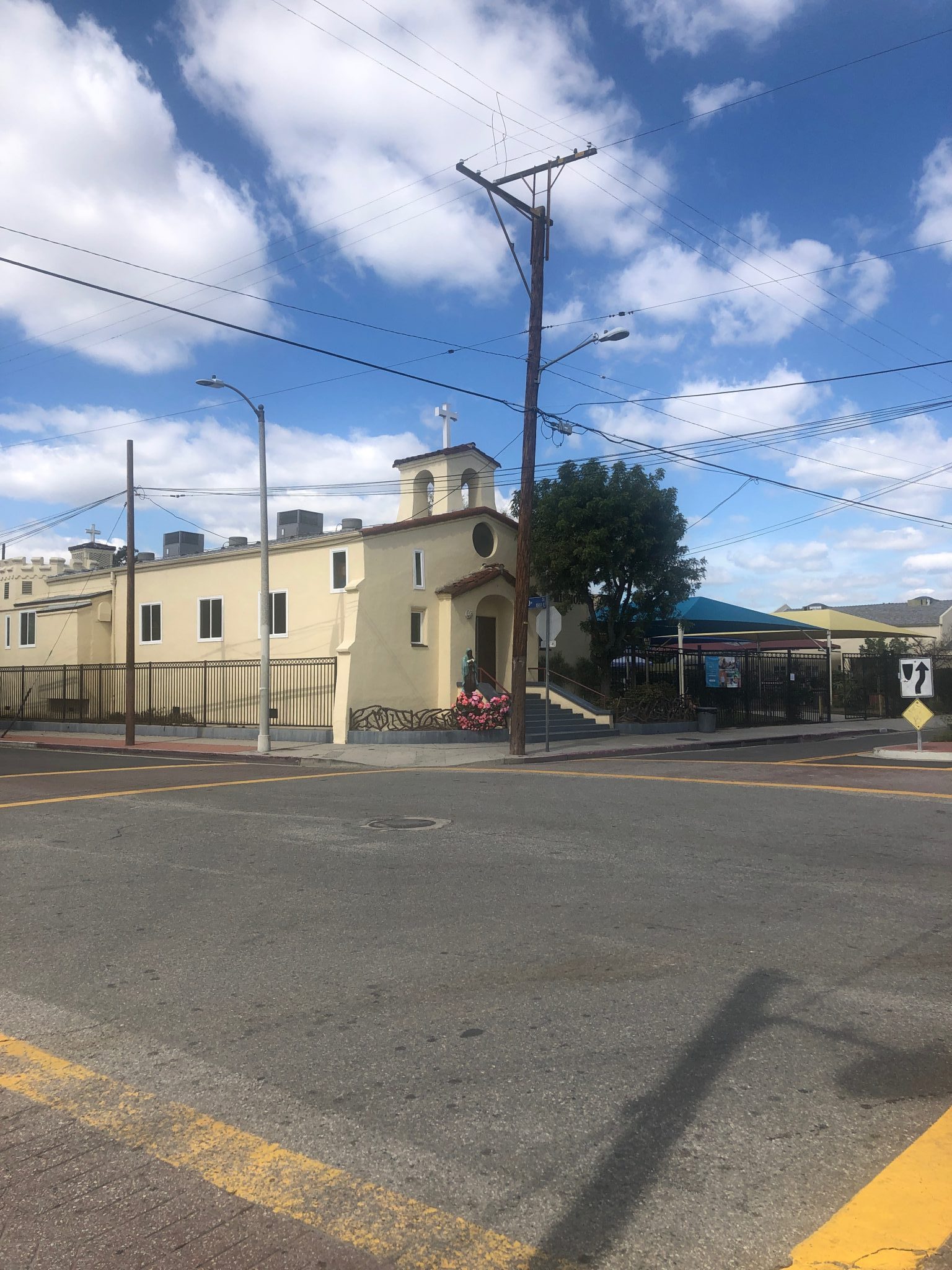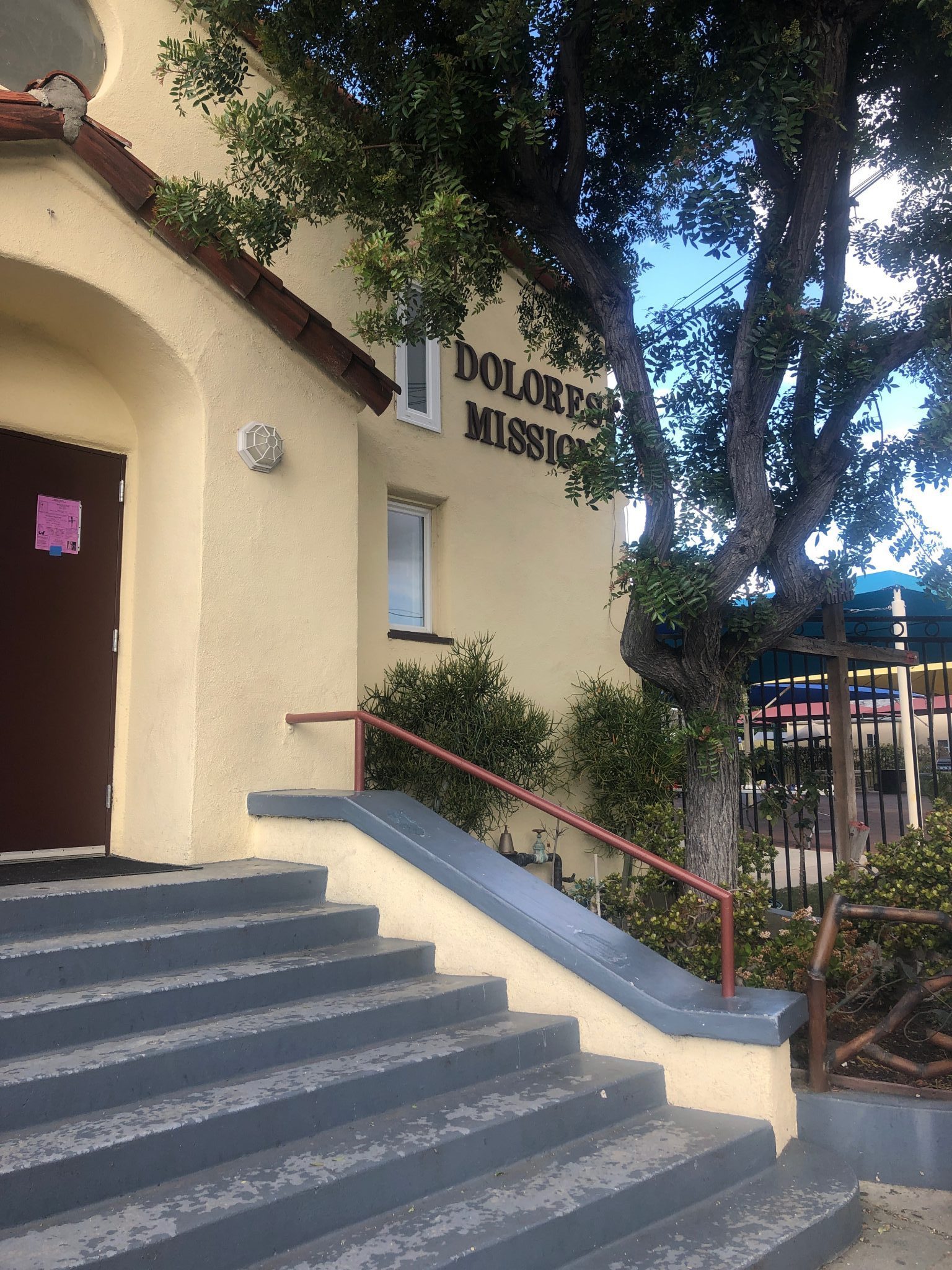 Throughout the week, we took tours of the Boyle Heights neighborhood, learned about the history of the school and its mission, and served breakfast to the homeless men in the neighborhood who have the ability to stay in the church at night on cots. The generosity of the community was amazing. Everyone was so helpful and happy to have us there. The most amazing piece to me and the largest cultural change was that the majority of adults there only spoke Spanish or knew very minimal English. As someone who only took two years of Spanish in high school, I was racking my brain to form even the simplest of phrases. Luckily one of the girls in our group is majoring in Spanish so she was able to translate for us. But even still, there were conversations all around me in Spanish. I was clearly the outsider in this situation which is pretty rare for a white, English-speaking, American female in Michigan. It was beautiful though, and I loved hearing them speak. Plus, it was sometimes a fun challenge to try to understand them.
Now, a large part of the trip was the experience with Homeboy Industries. Although we only spent one day visiting there, we had a lot of build up from reading Tattoos on the Heart before the trip, and from staying in Boyle Heights where it all began.
Walking in, I think we were all taken aback a bit. It was such a fun community with so much support, you would never believe the lives these people came from were it not for the tattoos covering their skin. We received a tour guide, but before the tour, we were able to experience the morning meeting they have every day. Everyone there collects in the lobby, they go over the agenda, and announce news and accomplishments. Then every department makes an announcement, and they end in prayer. There are many programs at Homeboy, it's pretty unbelievable. Once this was over, we were taken on our tour of Homeboy.
Our tour guide was currently working at Homeboy, but had gone through the program to be where he is. He was released from prison, and after healing from major injuries he endured in prison, he came to Homeboy for help. Let me tell you, this man was so full of love and kindness. He was funny and honest to us, and clearly loved by everyone there. Yet he did come from a life of gang violence, as one could faintly tell by the fading tattoo behind his ear that was clearly in the process of being removed. He showed us all around the facility, from the tattoo removal office to the schooling and education program. It was incredible to see so many lives completely changed from one program. They all clearly loved Father Greg Boyle, or "G" as they said. Most of all, they continuously gave everything to God.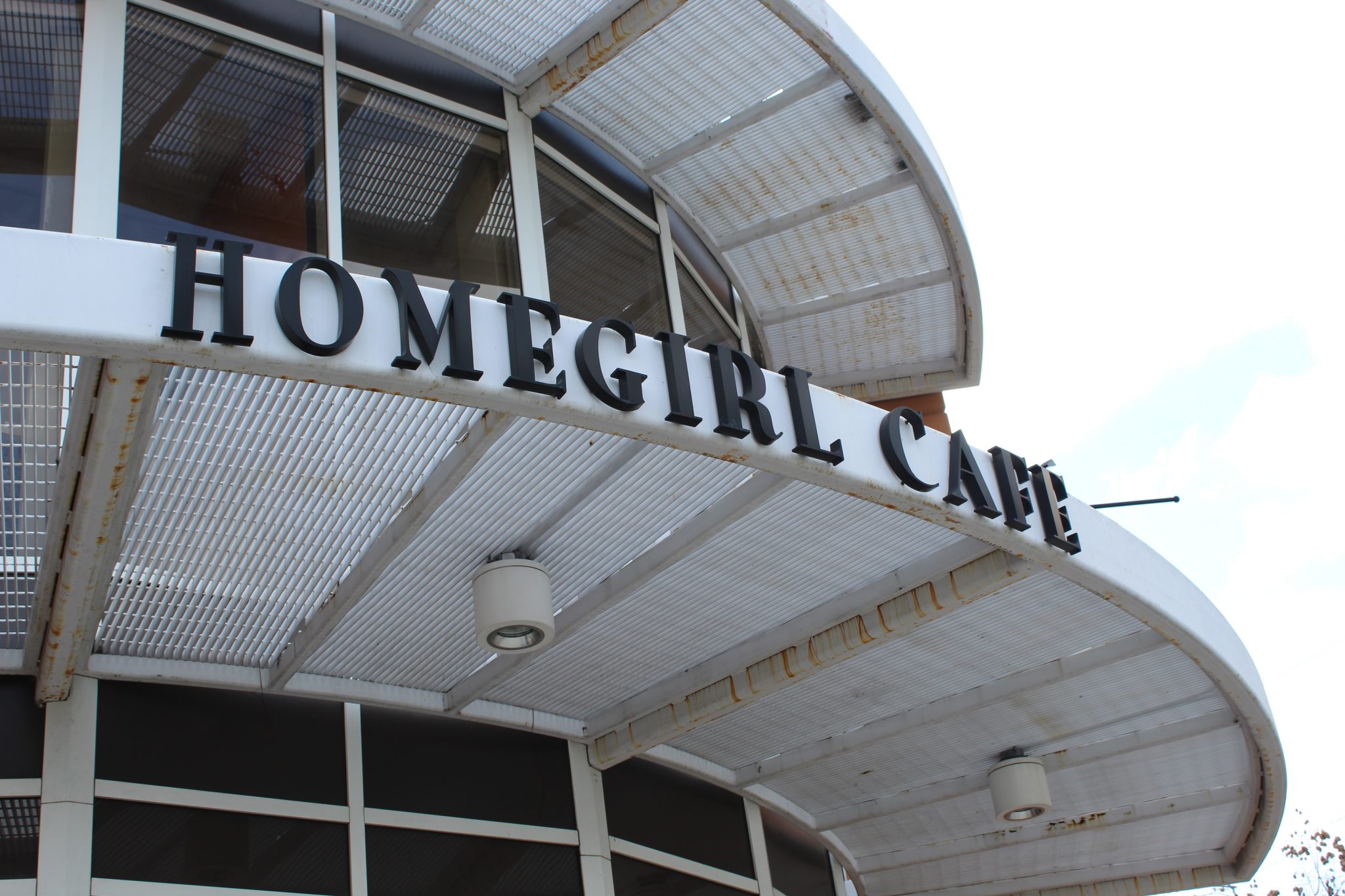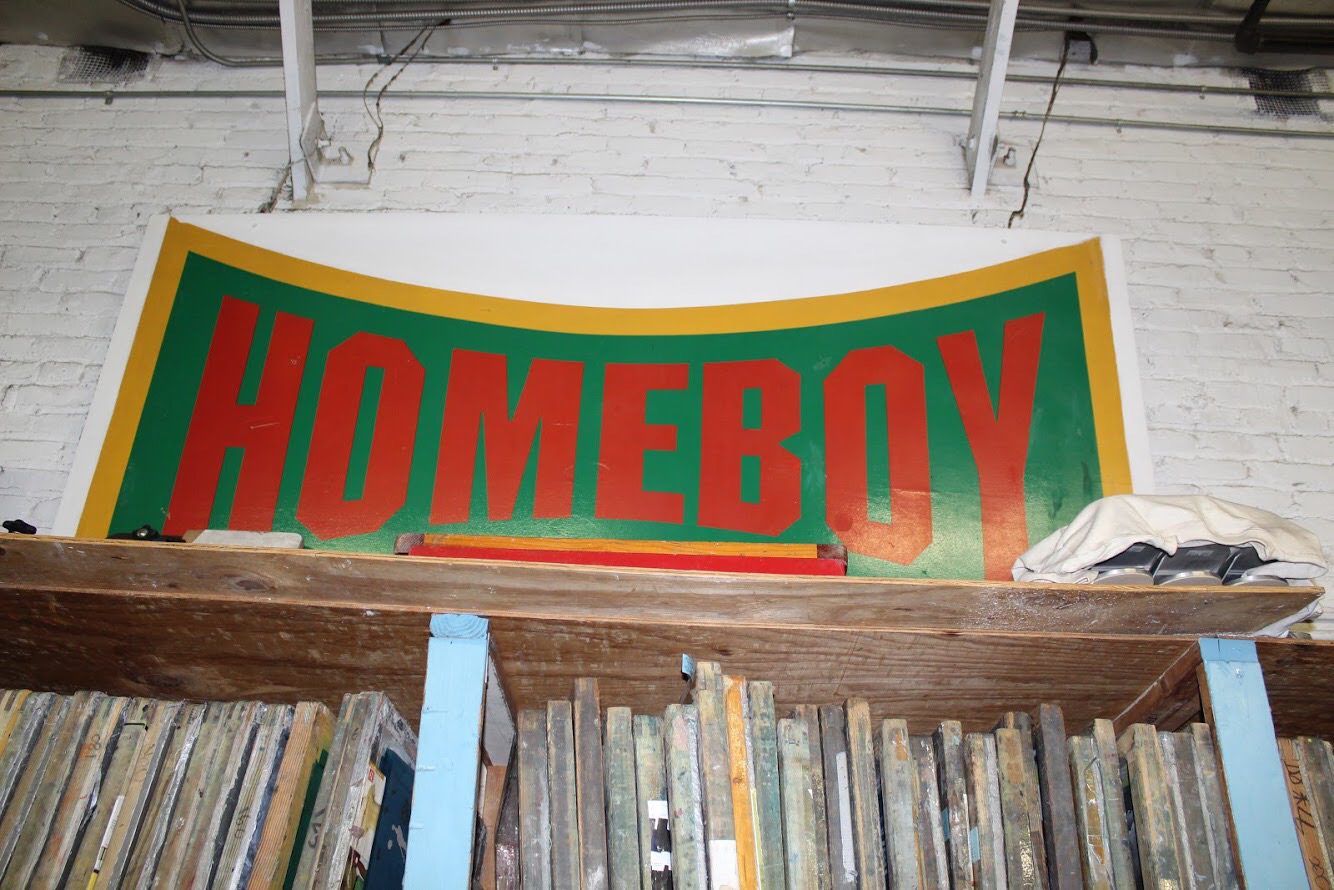 After we toured Homeboy and ate at Homegirl Café (highly recommend if you're ever in L.A.), we headed to the Homeboy Silk Screening shop. We received another tour and were shown how they create all of the clothing designs ordered. Our tour guide was also a previous gang member, put in prison at just 18 years old. He said he worked to get out and came to Homeboy because of his children and wife – he found out he had a child while he was in prison. His story was also so beautiful and powerful, and he emanated such pride and thankfulness for where he is now. It was incredible to see.
After visiting Homeboy, our week was about wrapped up. Thursday night and Friday night, however, pushed me, once again, out of my comfort zone. We were split into two groups and stayed at host homes. I had two others with me from my group at my home. My host family lived in the projects and the parents only spoke Spanish so the kids had to translate for us. This family was so sweet and generous. They made us dinner, provided us real beds to sleep on, and welcomed us with such love. I felt nothing but comfort being there.
Our final activity was Friday night. We did the Stations of the Cross with the Dolores Mission community around the neighborhood. They had crosses set up at different stages around the neighborhood and they gave my group signs to hold for each station. Everything was in Spanish, the singing to the readings and prayers. It was an experience like nothing I'd ever done before. I could only think of the women singing in the streets years ago to sop the violence.

I really cannot put into words how incredible this week in L.A. was for me. Not only did I learn about and experience a life I could never have imagined before, especially in the U.S., but I also gained some amazing friends along the way. God truly does work in mysterious ways. I now know that a small act of service can just be listening to a friend's rough day and empathize with them. I know the value of being with someone without trying to fix something about them or their lives. I understand service in a much fuller way, I understand solidarity and what it means to live in solidarity with others, and most of all, I found a new way to see God and feel his love.
---
Courtney Keyser is a sophomore at the University of Michigan pursuing a Bachelors in Business Administration. Courtney grew up in Midland where she was an active member of Blessed Sacrament community. In high school, she was a four-year participant in the youth Outreach team where her love and passion for service developed. She was also on the Youth-to-Youth retreat team for two years as well as a participant for one year. At Michigan, Courtney is actively involved at the Catholic Parish on campus, St. Mary's Student Parish, with which she went on this trip to Los Angeles through.