Reconnect with Nature
The Prayer House was built in 1981 near the back of our land.  There have been hundreds of visitors, mostly adults, (lots:  including several middle-school and younger students from Blessed Sacrament).   People can come in the Spring, Summer, and Fall.  There is NO cost. Just email Jeanne Lound Schaller and tell her when you want to come. You can just come for a look to see it and to feel if you want to spend time here. I had several people come for spiritual direction, and that worked well. Also, coming to pray and/or to enjoy the beauty of Mother Nature has been a gift for many.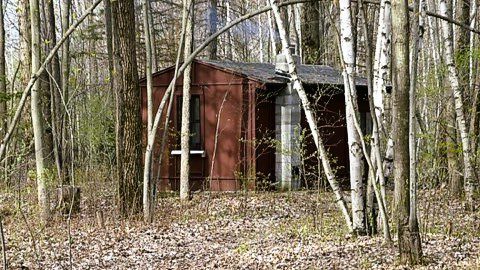 NOTES FROM SOME VISITORS:
"I came only to visit for a few minutes. I definitely will return. There is a great peace which envelopes me here."
"A very peaceful and quiet place where one can be alone with the Lord. I thank you for your trust in people"
"Nature is my temple and my solitude. The sound of the poplar leaves – a deep sense of peace."
"So beautiful today. Marvelous to sit and suck up with Mother Nature."
"I was here with my mom. Walking and talking. Breathing and Living."
MESSAGES OF STUDENTS:
When they walked to the prayer house, I asked them to go quietly, and they did.
"Here is the place of peace and fun. The trees dance to music alley in the sun. The House of Prayer and whisper of trees is peace, harmony and silence. You just want to pray on your knees."
"I never expected such a small house to hold a big heart and so much diversity. It's wonderful."
"10 words to describe this place. VIBRANT, FRESH, SPIRITUAL, WINDY, NATURAL, SILENT, HAPPY, FRIENDLY, POWERFUL, BEAUTIFUL."