I had a slightly cheeky thought when I read today's Psalm Response, "The just one shall live on your holy mountain, O Lord." It's easy to be just living on the Lord's holy mountain, isn't it? The readings from Proverbs and Psalm 15 make similar points. They teach us how to treat each other  – with kindness, respect, and peacefulness. It seems counter-cultural and is advice our world needs very much to pay attention to, now. Yet, those words are not recent at all, but from centuries ago, before Jesus was even born. It reminds me that our problems in this world are not as new or unique as we think.
Is it possible that some of our problems are because of our behavior? Are we hiding our light under the bed? Keep reading, this will make sense, I promise. Do you hide your faith? Are you hesitant about being the person God created you to be in this world and for this world? Your light is your power, your faith, your commitment to Christ. Your light is what you have been given that makes you uniquely you. And the world needs you.
Often though, showing "me" to the world is frightening. The fear of judgment, of being misunderstood, of seeming like I am too much, makes me pause and turn down the brightness. That is not what Jesus wants.
When He says, "To anyone who has, more will be given, and from the one who has not, even what he seems to have will be taken away," I don't think He is talking about money or possessions. If we hide our light, in other words, turn from following Christ because it is easier on us, what we have will be taken from us – our faith will be taken because it will seem as if we have no use for faith. Does that apply to you?
I don't know. I know that sometimes it applies to me. When I allow doubt and fear to grow bigger than the promises of Jesus and the words of Scripture. When the sacraments seem like a good idea, but require so much effort, so I tell myself I have too much to do so I can't go to daily Mass or make it to confession. You see, faith requires action. If I don't act on my faith, what good is having it?
Our call is to be people of faith, letting the light of Christ shine through us for others to see. How that happens is unique to each one of us. How will you allow Christ's light to shine through you today?
---
Cuando leí el Salmo Responsorial de hoy: "¿Quién será grato a tus ojos Señor?", pensé, "Ees fácil ser una persona justa en momentos buenos, ¿no?" Las lecturas de Proverbios y el Salmo 15 plantean puntos similares. Nos enseñan cómo tratarnos unos a otros, con amabilidad, respeto y paz. Parece contracultural y es un consejo al que nuestro mundo necesita mucho prestar atención ahora. Sin embargo, esas palabras no son de hoy en día, sino de siglos atrás, incluso antes de que Jesús naciera. Me recuerda que nuestros problemas en este mundo no son tan nuevos o únicos como pensamos.
¿Es posible que algunos de nuestros problemas se deban a nuestro comportamiento? ¿Estamos escondiendo nuestra luz debajo de la cama? Si sigues leyendo, esto tendrá sentido, te lo prometo. ¿Escondes tu fe? ¿Dudas que seas la persona que Dios te creó ser en este mundo y para este mundo? Tu luz es tu poder, tu fe, tu compromiso con Cristo. Tu luz es lo que se te ha dado que te hace único. Y el mundo te necesita.
Sin embargo, a menudo mostrar el "yo" al mundo da miedo. El miedo al juicio, a que me malinterpreten, a lucir que soy demasiado, me hace detenerme y bajar el brillo. Eso no es lo que Jesús quiere.
Cuando Él dice: "al que tiene se le dará más; pero al que no tiene se le quitará aun aquello que cree tener", no creo que esté hablando de dinero o posesiones. Si ocultamos nuestra luz, es decir, nos alejamos de seguir a Cristo porque es más fácil para nosotros, lo que tenemos nos será quitado, nuestra fe será quitada porque parecerá que no tenemos ningún uso para la fe. ¿Eso se aplica a ti?
No sé. Sé que a veces se aplica a mí. Cuando permito que la duda y el miedo crezcan más que las promesas de Jesús y las palabras de las Escrituras. Cuando los sacramentos parecen una buena idea, pero requieren tanto esfuerzo, entonces me digo a mí mismo que tengo mucho que hacer, así que no puedo ir a Misa diaria o llegar a confesarme. Ves, la fe requiere acción. Si no actúo de mi fe, ¿de qué sirve tenerla?
Nuestro llamado es ser personas de fe, dejando que la luz de Cristo brille a través de nosotros para que otros la vean. Cómo sucede eso es diferente para cada uno de nosotros. ¿Cómo permitirás que la luz de Cristo brille a través de ti hoy?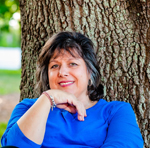 Deanna G. Bartalini, M.Ed.; M.P.A., is a certified spiritual director, writer, speaker and content creator. The LiveNotLukewarm.com online community is a place to inform, engage and inspire your Catholic faith. Her weekly Not Lukewarm Podcast gives you tips and tools to live out your faith in your daily life.
Feature Image Credit: Vladimir Fedotov, unsplash.com/photos/aPdUKy65qWE